Contains one of the best Buddy Holly tribute songs to date!
"Retrophonic 2 - The Home Demos" Davie Allan
(Arrow Dynamic Records – AD002-2010)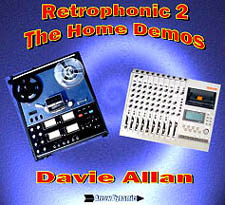 (Autographed by the Fuzz King himself)

Duly recognized as the "King of Fuzz Guitar," Davie Allan scored big time in the sixties with a series of sizzling instrumentals, most notably "Blues Theme," which invaded the national top forty charts, that deftly bridged the gap between surf rock and psychedelic innovation. Considering Davie's greatest commercial success was due to such sounds, it's only expected that that's the genre with which he's associated. However, there's another side to the universally lauded string bender that has seldom been revealed. Those who purchased Davie's previous release, "Retrophonic," which features his legendary band, the Arrows on select cuts, don't need to be told he's no one-trick pony, as the disc exposed what a superb singer he is.

Arriving as a fine companion to the package is "Retrophonic 2 - The Home Demos," a twenty-eight track collection covering the sixties until now. Sporting an extremely tuneful set of pipes, blooming with clarity and feeling, Davie lets his pop sensibilities run wild, and what smart and stunning pop sensibilities they are. Although snatches of fabled folks like Buddy Holly, Del Shannon and various Merseybeat bands are regularly referenced, Davie truly has a voice all his own. Stacks of songs on "Retrophonic 2 - The Home Demos," particularly "Dead End Town," "World of Yesterday," "Do You See What You're Doing To Me," "It's Right on the Tip of My Tongue," "You're Gonna Cry," and his phenomenally catchy tribute to Buddy Holly, "Oh Buddy, We Miss You So," contain all the proper ingredients required to produce solid gold hit singles.

Juicy and memorable melodies, fused with sparkling arrangements and tugging harmonies are delivered in spades. Sprinkled across these scrumptious pop confections is Davie's distinctive guitar work, which adds an even tastier flavor to the infectious stuff. Muscular riffs and unique chording lend a splash of gritty garage-band rock stylings to some of the material as well, not to mention a couple of servings of country-fried cuisine. Powered by tight and hooky pop songs, played straight from the heart and soul, "Retrophonic 2 - The Home Demos" is highly listenable through and through. Davie is a man of multiple talents, and the proof is right here.

Beverly Paterson – TLM Chief Staff Writer

Tracks:
1960's

Dead End Town

East Wind

Every time I See You

See the Way

She's My Woman

World of Yesterday
1970's

Do You See What You're Doing to Me?

Get Away from Me

It's Rights on the Tip of My Tongue

Like Sands through the Hourglass

Make the Most of Your life

Maybe I'll Just Move Along

She's My Girl

This Burning Flame of Love

A Wondrous Love
1990's

Los Cabos

Funny Little Empty Feelin'

I'm Getting Too Close for Comfort
2000's

Cruel World

Each Dawn I Die

I Know About You

Lonely Is the Hunter

Run to Her

She'll Come Back to Me

That's Why I Love Being with You

You're Gonna Cry
2010

I Didn't Know Love

Oh Buddy, We Miss You So
To Purchase by snail mail, send your check payable to (Mexia Inc.) to:
RvStewartProductions
P.O. Box 613
Sandia Park, NM 87047
U.S.A.

To pay by credit card, click the appropriate PayPal button below:
$17.00 U.S. Only
$20.00 All Other Countries