Eddie Dimas
"Mosquito Junction" b/w "Don't Come Running Back"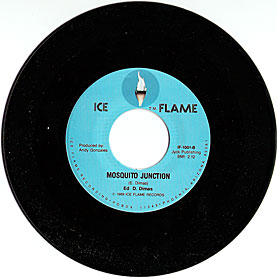 (Ice Flame Records IF-101 – Jyck Publishing)

This is the last 45-rpm release by Eddie Dimas of Eddie Dimas and The Upsets' fame, a guitar-instrumental group that set the Latin-American world on fire during the '60s with a score of instrumental ranchera hits, the most notable being, "El Mosquito," "El Mitote," and "La Vieja Seca," which sold in the hundreds of thousands.

Only one thousand copies of this 45-rpm were pressed in 1989, and RvStewartProductions is very fortunate to have a few units in stock that are in unplayed, mint condition, still in their original white sleeves.

At present, RvStewartProductions has set a ridiculously low price per unit at $15.00 (U.S.) and $18.00 (all other countries)! This includes shipping and handling; however, be advised that these prices will increase, as our supply dwindles.

So, if you're a serious vinyl collector or just a fan of Eddie Dimas's extraordinary guitar picking skills, you don't want to pass this incredible bargain up, because it's a given that these already 20-year-old, mint-conditioned 45s will rapidly increase in value.

To order by mail, send your check (payable to RvStewart) or well-hidden cash to RvStewartProductions, P.O. Box 613, Sandia Park, New Mexico 87047 U.S.A.

To order by debit or credit card via PayPal, click the appropriate button below:
Buy Now (U.S. only) - - - $15.00
Buy Now (All Other Countries) - - - $18.00