Texas Mike Bell "'Til the Rivers Run Dry" (DSM Records)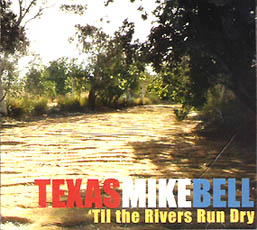 "Lurking within Texas Mike Bell's brawny blues expeditions are the evergreen sounds of good old-fashioned rock and roll."
There must be something magical floating around in the water of Texas, as so much great music is bred in the state. Operating out of Dallas, Texas Mike Bell is an accomplished guitarist, who ably bridges the gap between blues and rock with finesse and verve. His most recent album, "'Til The Rivers Run Dry" elevates and transcends such a format to a fresh and vital plane. Blues-rock slingers may be a dime a dozen, but to stand apart from the crowd one has to wield specific elements, and there's no argument Texas Mike Bell is endowed with the razzle-dazzle to do so.
Wailing licks, sustained by focus and control, wash over the instrumental pizzazz of "Six Street Shuffle," "In A Fix On 66" nod and bob with boogie grooves and "Villanova Junction" glistens and glimmers with sweeping flourishes. Lurking within Texas Mike Bell's brawny blues expeditions are the evergreen sounds of good old-fashioned rock and roll. Gentleman John Street plays a mean piano (think Jerry Lee Lewis and Johnny Johnson from Chuck Berry's band), as he pounds and pumps his way through the songs. Michael Keuper's bass lines are fat and tasty, and Josh Hall retains a sure and steady beat on the drums. Anchored by Texas Mike Bell's rich and sturdy vocals, the band simply smokes. Replete with electrifying riffs, rhythms and stabbing melodies, "'Til the Rivers Run Dry" is a blues-rock dandy. If the music of ZZ Top and Stevie Ray Vaughan curl your toes, you're guaranteed to love this album.
Players: Texas Mike Bell – electric and acoustic guitars/lead vocals; Gentleman John Street: piano and organ; Michael Keuper – bass guitar; Josh Hall – drums; Benji Harris – backup vocals; Tommy the two truck driver – voice on "In a Fix on 66"; Gayle Hannagan – backup vocals; Josh Hall – voice for "Big Dave" on "In a Fix on 66"
Tracks
Six Street Shuffle
Till the Rivers Run Dry
What Kind of Fool
Forget About You
Stolen Love
Anytime
Bottle of Red Wine
In a Fix on 66
Villanova Junction
Milkshake Mademoiselle
(Click the appropriate button to order by credit card; otherwise, send well-hidden cash or check payable to RvStewart in the amount of $15.00 to RvStewartProductions, P.O. Box 613, Sandia Park, NM 87047. Price includes postage in the U.S. All other countries add $2.00)
______________________________________________________________________________
($15.00) Inside the U.S.
___________________________
($17.00) Outside the U.S.
___________________________