SWEET PERFUME
Sonny West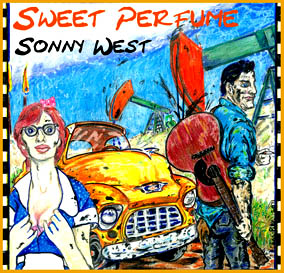 Lance Records (L-2017)
TRACKS: 1. SWEET PERFUME 2. THE PARTING DANCE 3. WHAT'LL YOU HAVE 4. LONG TIME WITH THE WINE 5. CALL ME LUCKY / ROCK-OLA RUBY (Medley) 6. HIDE AND WATCH 7. WE PASSED BY HERE (EL MORRO)

West's writings of tracks number 3 and 4 began in 1958 for the purpose of making a demo for Buddy Holly. (Buddy had previously requested that West send him any new material for his consideration due to the phenomenal success of "Rave On" and "Oh Boy!") But when West learned of Holly's tragic aircraft accident that took his life, West temporarily shelved these two songs. It wasn't until recently that he finished and recorded them.
Sonny West made his debut as a singer-songwriter with his recording of "Rock-Ola Ruby" in 1956, released on the late Norman Petty's Nor-Va-Jak label. Later West wrote, recorded, and released "Oh Boy!" and "Rave On" in the 1950's, which were ultimately transformed into Rock-and-Roll classics by his friend and contemporary, Buddy Holly. West is one of the original inductees into the Rockabilly Hall of Fame.

CREDITS: Recorded on tape at the West Compound, June and August 2011; mastered by Billy Stull, Masterpiece Mastering, South Padre Island, Texas; cover art - Chas Pike; cover layout and label design - Jason Scott Stewart; photo - James Schuman at Winter Dance Party 2011, Clear Lake, Iowa; final CD mastering - John Wagner Studio - research assistance by Joe W. Specht; produced by Sonny West; All songs written by Sonny West (BMI) Copyright 2003, 2006, 2011; text editor - Dick Stewart; an RvStewartProduction, P.O. Box 613, Sandia Park, NM 87047; www.lancerecords.com
CATEGORY: Americana, Country, and Rockabilly
Inside the U.S.
$15.90
All other Countries
$19.90