"Restless in L.A." Davie Allan and the Arrows (Sundazed SC11135)
A CD filled with powerful biker guitar instros, featuring the original California '60s Legendary Fuzz King and picked by Keith "MuzikMan" Hannaleck as the September 2003 Lance Album Pick of the Month: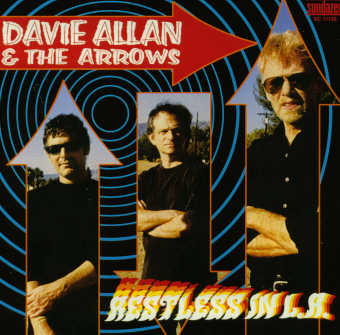 I would think that after recording some of the best instrumental rock music in the last forty years Davie Allan is more than ready to break away from the cult status that has kept him from becoming a household name. This man has been one of the most consistent guitar players in the world and it is beyond my understanding why he has not received the prominent position that some of his peers have.
His latest fuzz and wah-wah fest on Sundazed Records is titled "Restless In L.A." It should finally set the record straight and give further support of his legendary expertise as a lead guitar man. The album is a grab bag of instrumental diamonds including two tasty vocal numbers, one featuring Davie and Bruce Wagner on vocals, the psych-rock classic by the Electric Prunes "I Had Too Much To Dream (Last Night)," and Wagner taking the lead on "Wicked Woman." Both are well done. Because I am accustomed to hearing Davie play only instrumentals, I was a bit surprised how good the vocals actually were. They break up the album's flow in a nice way and give it more variety along with all the different flavored instrumental rockers.
There is not as much distortion and fuzz on this album as I have heard in the past. What I did hear was a clear-cut, precise sharp-shooting guitar picking that made each tune a singular six-string journey. It must be hard not to sound the same after forty years of playing a lot of the same kind of music, so to say that I was very impressed with the diversity Davie came up with on this album comes as matter of course.
I would be understating the importance of this recording if I did not say that it was another masterpiece of instrumental tracks, and surely, it is. I could get restless anywhere listening to all these shots of driving electrical energy. I do not think I have to be in L.A. to feel the raw emotion and authoritative licks coming off Allan's guitar. It works for me anywhere.
Keith "MuzikMan" Hannaleck
Inside the U.S.
$15.00
Outside the U.S.
$17.00
(Click the appropriate button to order by credit card; otherwise, send well-hidden cash or check payable to RvStewart in the amount of $15.00 to RvStewartProductions, P.O. Box 613, Sandia Park, NM 87047. Price includes postage in the U.S. All other countries add $2.00)
Tracks:

1. Toxic Terror – 2:59

2. Kick Back – 3:11

3. I Had Too Much To Dream (Last Night) – 2:43

4. Quiver – 2:47

5. Energized – 2:57

6. The Loud, The Loose And The Savage – 3:31

7. Wicked Woman – 2:51

8. Theme From The Wild Angels – 1:55

9. Arrow Highway – 2:21

10. Restless In L.A. – 2:18

11. The Stranger – 3:34

12. On The Surface – 2:34

13. Guitarra Triste – 2:06

14. Demente - 4:23

Players:

Davie Allan - Guitar and Vocals

David Winogrond - Drums and Percussion

Bruce Wagner - Bass, Keyboards, Trumpet and Vocals